Fairfield County ReStore
---
Come Visit Us At The
Habitat for Humanity
Fairfield County ReStore
We're the home
improvement discount
store & so much more!
IDEA FACTORY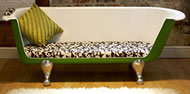 Do you ever get sick of people telling you to recycle? Well, these furniture designers prove recycling can be a lot more interesting.
LIVING GREEN

Discover easy, stylish and super convenient ways to green your lifestyle with Josh Dorfman.
DIY

Restoring the finish on ReStore antique furniture is a great way to enhance the style of your home.
Dump or Donate? Make the Right Choice!


The choice you make can literally change the world you live in. Collectively we dumped a grand total of 246 million tons of material in 2005, much of it recyclable. By donating gently used furniture, appliances, fixtures, and building materials to The ReStore you become part of the solution to reducing fossil fuel consumption, reducing landfills in your backyard while giving families the opportunity for first time home ownership.
Make the right decision. Don't dump, donate.
DIY
---
Are you tired of your bathroom fan and light, but you don't know how to change it and don't want to pay someone else to do it? Watch a step-by-step tutorial on the DIYNetwork website. (And after you watch it, stop by the Habitat ReStore to pick up your project supplies!)
Did You Know?
---
You don't have to buy a brand new lo-flow toilet to save water. If you have a large tank, simply fill an empty milk gallon jug with water and place it in the tank. This displaces the water, and allows your old toilet to use less H2O. (And you save money by not buying a new toilet!)